Alana Johnson is renowned public speaker and facilitator of conversations. She is recognized nationally and internationally for her work in rural development, women's advancement, leadership training and community activism.
In 2018, Alana was inducted into the Victorian Women's Honour Roll, she was named in the inaugural 100 Women of Agribusiness in Australia in 2014 and in 2013 the inaugural 100 Women of Influence in Australia by the Australian Financial Review.

Alana was the Victorian Rural Women's Award winner for 2010 and Australian runner up. She has appeared on the ABC television Q+A panel and features in Women's Word of Wisdom, launched by the Governor General at the International Women's Day 100th anniversary celebrations at Government House.

A pioneer in rural women's leadership in Australia, Alana is a founding member of Australian Women in Agriculture and former President of the Foundation for Australian Agricultural Women. Alana is a member of a fifth generation farming family, breeding cattle and growing trees near Benalla in Victoria.

Currently Alana is the Dep. Chair of the Victorian Catchment Management Council, the Chair of the Victorian Women's Trust, a Director of Goulburn Murray Water and the inaugural Chair of the Dugdale Trust for Women and Girls. She is a member of the Victorian Ministerial Council for Women's Equality and a member of the strategic advisory group to the Invisible Farmer project at Museums Victoria and a reference group member for the Victorian Rural women's Network.  

Alana is a co-founder and past President of the Voices for Indi, initiating the democracy project in the electorate of Indi which saw Cathy McGowan elected in 2013 and 2016 as the Independent MP for Indi followed by Helen Haines in 2019.

A graduate of the Australian Rural Leadership Program and the Australian Institute of Company Directors, a Social Scientist, clinical Family Therapist and Social Worker, Alana has been awarded a PhD scholarship to research the future of Australian Agriculture at Monash University.
---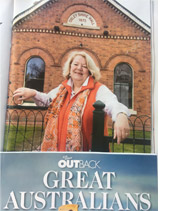 OUTBACK Great Australians
The second edition of OUTBACK Great Australians includes Alana Johnson as one the stories of 20 remarkable Australians in a special magazine, with in-depth journalism and beautiful portraiture. The stories of these inspirational people, captures the spirit of innovation, hard work and humanity that you find in the bush. Read the Story
Anyone who wants to order via www.outbackmag.com.au can order here.
Story courtesy of R.M.Williams OUTBACK Great Australians Magazine. www.outbackmag.com.au