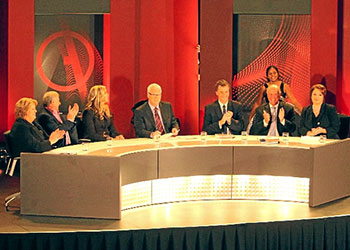 Media items, presentations, publications and news on what has been happening will be loaded when available.

News
The Border Mail - Article
4/9/2015
The Wheeler Centre 'Outbound: A Week in the Country' series
http://www.bordermail.com.au/story/3328201/life-outside-the-big-cities/

The Age - Article
18/04/2015
Invisible Farmer Project
Alana Johnson speaks about the Invisible Farmers Project by Museum Vic. and University of Melb. Women have always been part of farming but their story is discounted and absent, overshadowed by the stories of male pioneers, stockmen and squatters.
http://www.theage.com.au/victoria/rural-women-share-stories-of-the-invisible-farmers-20150417-1mml54.html
ABC Radio NSW - Interview
11/03/2015
Democracy in Rural Communities
http://www.abc.net.au/local/stories/2015/03/11/4195397.htm?site=centralwest
Radio National :
Sunday Extra with Jonathan Green
22/06/14
Is it time to take the parties out of politics?
http://www.abc.net.au/radionational/programs/sundayextra/905-segment/5532938
Radio National : Life matters
23/05/14
How do you get your voice heard ?
http://www.abc.net.au/radionational/programs/lifematters/2014-05-23/5471016
The Advocate
Tasmanian Women in Agriculture
http://www.theadvocate.com.au/story/2307389/tasmanian-women-in-agriculture-forum-pictures-photos/?cs=129
The Guardian .com
17/04/14
Voice for Indi helps spread word that could spell trouble for major parties
http://www.theguardian.com/world/2014/apr/18/voice-for-indi-helps-spread-word-that-could-spell-trouble-for-major-parties
ABC Lateline
17/09/13
http://www.abc.net.au/lateline/content/2013/s3850987.htm
NEXT STEPS FOR Voice for Indi
Alana Johnson, is the Voices for Indi President. The electorate of Indi is being heralded across the nation as a demonstration of active 21st century democracy based on civic engagement, respect and a new means of political action.
The successful election of Indi independent candidate Cathy McGowan with a 9% swing against the national trend demonstrated that politics in Australia can still be about the people rather than parties.
Voices for Indi is committed to progressing participatory democracy in Indi and beyond. After hosting IndiShares in June, an Indi summit is planned for September 2014.
For more information go to: www.voicesforindi.com